Some of you may have heard about drop shipping, the idea behind it is in fact reasonably ingenious.
You set up an online store, but instead of establishing the full store in the traditional method, you simply resell products that are produced-stocked-packed-shipped by others (or mostly directly from the manufacturer).
Drop shipping, or the translation from Wikipedia, sell with stock at source, is a logistical method in which the reseller does not stock or store the products in the online store at all.
Thus, obviously, if you want to start an online business with little start-up capital, drop shipping is potentially one of the best and most attractive options.
Drop shipping set in an image, the consumer buys in your web store, you retain profit through your commission (and you can often set yourself how much you want to earn from commission, as we'll see later), you pass the order on to manufacturer, the manufacturer sends the product directly to the consumer.
The options, possibilities and variations are virtually endless. You can sell only on eBay, only on Amazon, only on your private store, you can make websites, apps, use pre-made ready websites and apps, focusing on one specific country, or many different countries.
Above all, it is necessary to evaluate the MARKET and COMPETITION, and as with most online options, we will fall for Search Engine Optiomization (SEO) and marketing tools as major differences between the crucial factors for your success!

---
16 Tips (Commented) New Drop Shipping Entrepreneurs Need to Know (Adapted, by Oberlo )
Focus on understanding all the complexity, and possibilities, of (digital) marketing – here, mathematically = SEO + Ads. You need to understand how to rank among the top results on google, search engines, and also the sites used to sell. Marketing and uses of available tools will bring traffic to the site, and as a result, sales and commissions.

Create an incredible offer – motivate your customers through promotions, discounts, benefits, after all, why they should buy products in your store, not in competition. Aggregate or additional purchases forming combos can also help a lot.

Avoid lowering the price of your products – do not lower your prices to optimize your profits, but also focus on maintaining a higher average sales value. As long as your price matches the market price, there is no reason not to have enough sales and profit.

Find good suppliers quickly – in a selling method where there is almost no control over the selling and shipping process (mainly because the product is out of your hand), the more confidence you have in your suppliers, the more solid your business will be.

Get the most out of your system – using tools and websites that make your job easier and making your online store as automated as possible will make your work a lot easier, and it's a crucial part of planning. There are a number of free and paid tools and applications that have been built to support online stores, so it's worth researching and testing available solutions.

Make a site professional and presentable – "Looks can be deceiving" and "First impressions are what you get," teachings that should be taken to heart when planning and putting your store online. Don't scare your customer, don't post products with unfinished descriptions or blank spaces pasted elsewhere. In appearance it is always worth looking closely at the competition and checking details of your presentation and content.

Generalist Shop vs. Niche Shop – It's always worth testing with generalist shops to see what works and validating the targeted niche content and content. If you have already established and proven that your specific niche will work, then this is the time to sit down and shop in the most perfectionist way possible. It is always possible to diversify or expand the areas and products of stores…

Prepare for the pivot – Always prepare for the best as well as the worst. Drop shipping is a relatively easy business to start, but as every business will have ups and downs. You need to stay tuned for changes, add new product trends and remove obsolete products, get ready to pivot (when the store bursts in sales, or when there is an obstacle)!

Offer exceptional customer support – There are several ways to differentiate your online store and build customer loyalty, one of which is to provide exceptional customer support. Offering refunds, and responding to messages sent by customers is critical to providing a positive experience and better referrals. Remember that even if a customer has had a negative experience for a factor beyond their control, just being supported and able to communicate with the store can positively promote your business, a satisfied customer will attract 10 more customers…

Always choose ePacket (for delivery, next topic in this tutorial).
Be active on your site every day! – If you really want your online store to be a business rather than a hobby, you will need to work at it every day (like any business of its own). In addition to checking your messages, checking your orders, payments, you will also have to support the store and increase your presence on both search engines and social media (and this requires dedication, content writing and marketing campaigns). .

Import at least 25 products – keep calm and excitement under control, focus on QUALITY rather than quantity. Focus on developing quality content with good photos, logos, descriptions, etc. Choose your 25 favorite products and start with them, no more trying to process 1000 descriptions at once, as this will make your process difficult and delay your project…

Buy small samples (whenever possible) – having your product on hand whenever possible will allow you to write much better posts and descriptions, allow you to make videos, take better photos, make a difference at the time of sale!

Monitor your competition – stay tuned and keep up with your competition changes and posts is critical

Change customizable notes from your site
Create a memorable brand
What is ePacket delivery? (adapted by Oberlo )
ePacket is one of the biggest secrets and key factors for fast and efficient product deliveries from China!
What is ePacket, and why is it the best way to deliver products?

ePacket is one of shipping options available from suppliers based in China and Hong Kong. EPacket is actually the result of an agreement between the United States Post Office (USPS) and the Hong Kong Post focused on increasing the flow of Chinese trade (ecommerce sales).
EPacket enables fast shipping from China to a variety of countries ( 36 countries according to the USPS website ):
Australia, Italy, Austria, Japan, Belgium, South Korea, Brazil, Latvia, Canada, Lithuania, Croatia, Luxembourg, Denmark, Malaysia, Estonia, Malta, Finland, Netherlands, France, New Zealand, Germany, Norway, Gibraltar, Poland, Great Britain, United Kingdom, England, Scotland, Ireland, Wales, Portugal, Greece, Russia, Hong Kong, Singapore, Hungary, Spain, Sweden, Israel and Switzerland.

Packages must be up to 2kg – 4.4 lbs – here including not only the product itself, but all protective linings, box and any other material or packaging.

Packages must be less than $ 400.00 USD.
The package size should be more than 14 cm long and 11 cm wide – which is no problem if you can always use a larger box to pack.
Rolled packages should have a minimum length of 11 cm. In addition, twice the diameter plus the length must be more than 17 cm.
The longest side of a normal package should not exceed 60 cm. In addition, the sum of length, width and height should not exceed 90 cm. The longest side of a wrapped package should not exceed 90 cm. In addition, twice the diameter plus the length should not exceed 104 cm.


The best part of drop shipping is the initial investment near ZERO!
---
Here's a list of the best drop shipping companies (as well as their pros and cons).
The 8 Best Drop Shipping Companies! (adapted, and much improved from EMERGE )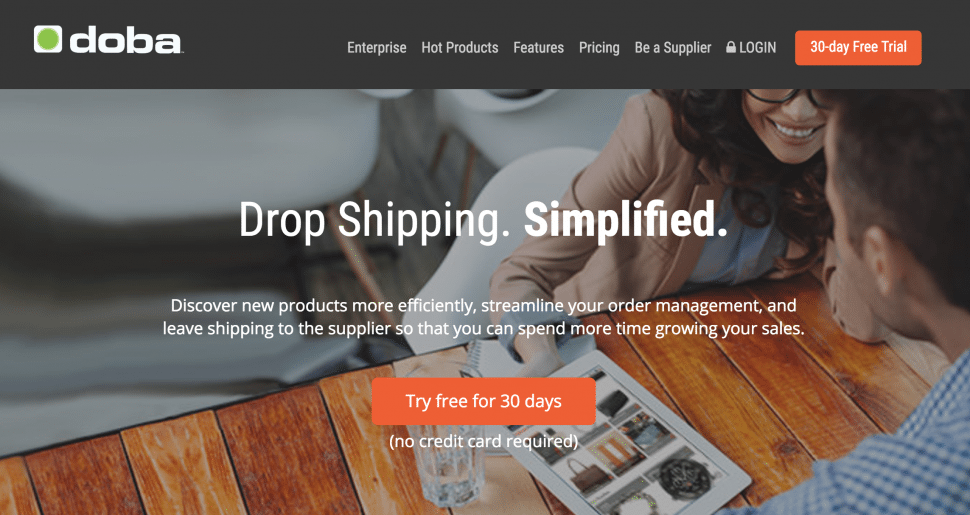 Founded in 2002, Lehi, Utah, United States

Doba is one of the most extensive (product-wise) sites and easiest to use for drop shipping.
The platform not only allows you to get a detailed list of manufacturers and retailers, but also offers options for easily adding a product without having to directly relate to multiple drop shippers.
At Doba, you simply find the products you want to sell, easily add to your site, and simply focus on selling. Doba will contact merchants so they can ship products to consumers without the need for specific broker management.
Pros (+) in working with Doba :
Doba features one of the most extensive offering catalogs on the market with over 2 million aggregate products and approximately 200 suppliers – manufacturers.
Immediate access to products from hundreds of suppliers.
Organize bulk export product lists for your favorite store or market.
You are emailed with discounts and promotions from your suppliers, as well as temporary (seasonal) trends and products, as well as new suppliers available in the areas of interest.
Against (-):
None actually…
Cost and prices (Doba):
Doba offers packages starting at $ 29 / month.
The Advanced Package costs $ 69 / month, and comes with Ebat data export entry and elite vendor support.
Finally, the pro package, which starts at $ 249 / month, which exports data with Amazon and allows batch purchases.
If you plan to sell with eBay and Amazon, Doba is a good place to start!
Founded in 2015, a Shopify related company.

If you have never heard of Oberlo, it actually means that you have never read or seen virtually any drop shipping tutorials.
Oberlo is the ideal partner for those looking to set up an online store with Aliexpress products.
Oberlo defines itself as the industry-leading reference market for finding and finding products to sell online at its Shopify store.
Its Shopify platform facilitates drop shipping by connecting merchants with manufacturers, who then ship products directly to consumers.
Pros :
Beautiful and modern interface.
Full integration with Shopify.
Quick and easy import and sales – easy 1-click with Aliexpress products.
Free account that allows you to test all site functionality before migrating to paid packages.
Contra :
Works exclusively with Shopify.
It does not allow tracking of shipments, full or multiple tracking with the free account.
For now only works with Aliexpress.
Costs and prices (Oberlo):

Oberlo offers an incredible free account, but limited to 500 products and 50 sales per month.
Paid plans start at $ 29.90 and $ 79.90 per month, allowing you to scale the signed package with your sales performance.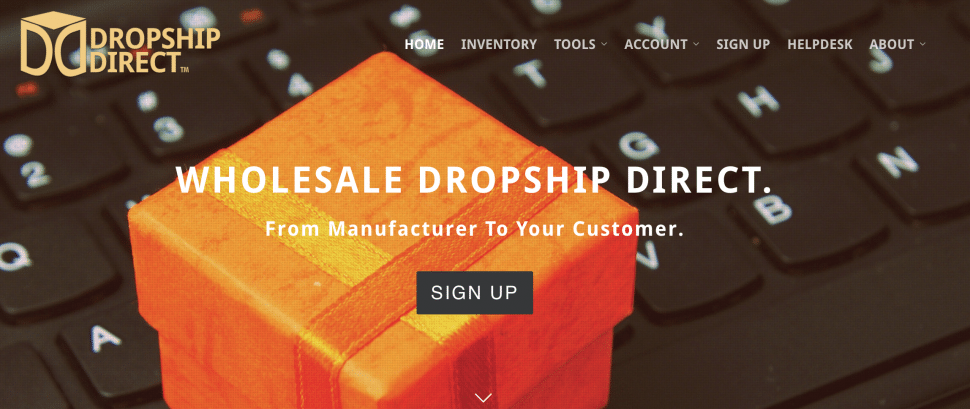 Dropship direct offers over 100,000 items from over 1,100 brands. It's free to use , but it also features a premium retail information pack at $ 37.00 / month.
It is a good site for those who want to start without investment. The free account is fully functional.
The site acts more like a directory of suppliers-manufacturers. Here you choose an item you want to start, and then you order the product to be shipped to your customer.
So you don't have to get in direct contact with the drop shipper.
The dropship direct catalog is always up to date with the latest trends and new products are constantly added to your diverse inventory.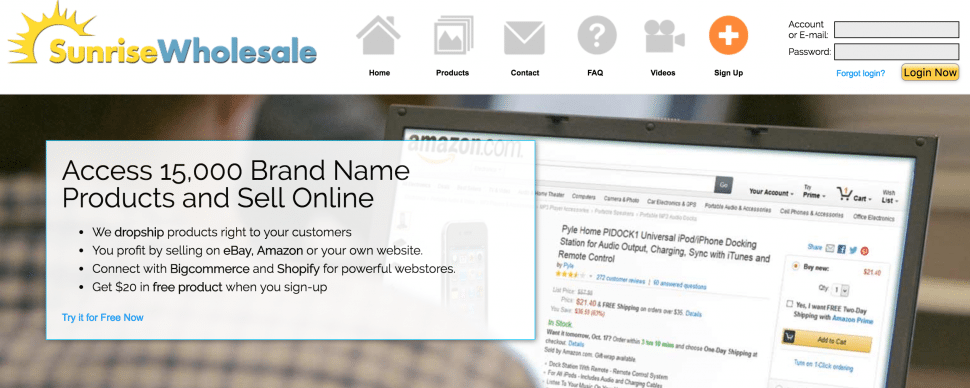 Sunrise Wholesale (Rising Sun Retail) is a service that ships your products directly to your customers.
You will have access to over 15,000 branded products, and you can search through the products offered.
Sunrise allows you to export product images and descriptions to eBay and Amazon (as well as to your personal or professional website). The site even lets you integrate and sync with Shopify and Big Commerce.
Sunrise recently partnered with an import company to give you access to a warehouse to be used as a stock or distribution center.
If you are interested in selling top brand products, here are some that are available on the site: Apple, Audio-Technica, Belkin, Betty Crocker , Canon, Clinique, Coleman, Conair, Dior, Disney,
Dolce & Gabbana, Duracell, Estee Lauder, Fellowes, Fujifilm, Giorgio Armani, Gucci, Hello Kitty, Hugo Boss, Jensen, JVC, Liz Claiborne, Marvel, Mattel, Panasonic, Ralph Lauren, RCA, Sony, Versace

Pros :
Fast and efficient order processing. The service has received A + awards and certifications from the Better Business Bureau.
Every account has free eBay listing tools and search tools, making it much easier to use.
You also get access to Amazon sales and a search manager. Which is a hand on the wheel for those just starting out.
Cons:
The rate for restocking is high. You will have to stop 20 cents for every non-defective product your customers return.
It offers 15,000 products from 7 distributors, which may not be enough depending on your project, niche, or area of ​​expertise.
Costs and prices:
Monthly fee of $ 29.95 per month or $ 99.00 per year.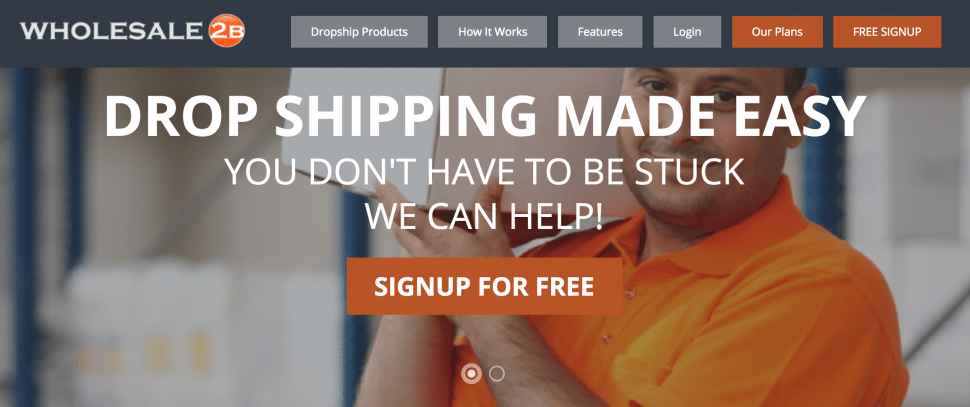 Wholesale 2B (Retail to be) requires you to sign a plan, but nothing is charged for simply scouring the database and products.
How does Wholesale 2B work?
The first step is to search for the desired products, one can use the categories. When you find something interesting to sell, just post it on my site for people to buy from you.
Once the order is completed, Wholesale 2B collects your commission and ships the product directly to the customer.
Pros (+) :
Access to over 1.5 million products!
Several plans to choose from, some selective plans if you want to sell on Amazon or eBay, or of course on your own site.
Built-in tools (built into the interface) on ecommerce platforms like amazon and eBay.
Real-time integration with Shopify, Magento and BigCommerce.
Cons (-) :
You cannot contact the site directly by phone or email, you need to open a service ticket on the site, which makes the communication process slow.
Not many tools to analyze your sales and performance.
Costs and Prices (Wholesale 2B):
Costs and prices are very complex (due to some of the features described above).
You can check all plans here: https://www.wholesale2b.com/wholesale2b-prices.html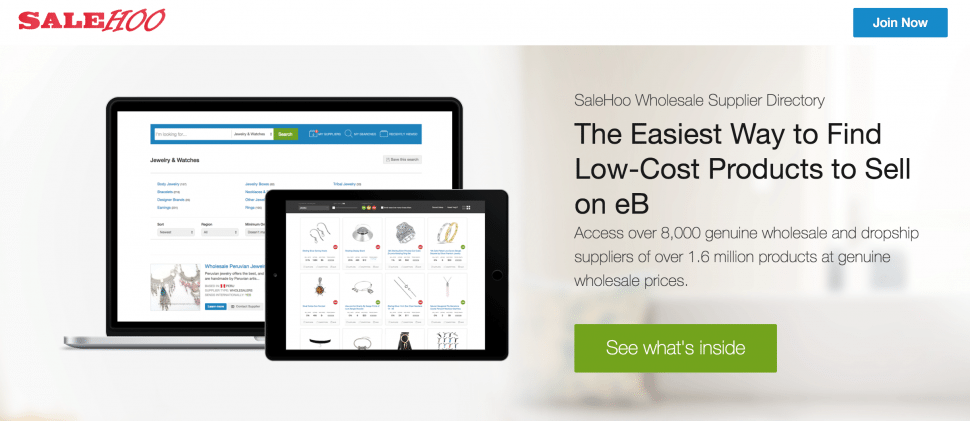 Salehoo has the biggest focus on presentation and a super detailed directory of companies that you can become partner for your business.
They have over 8000 companies in their network giving you access to over 1.6 million products.
All of Salehoo's more than 8,000 suppliers are manually verified by the sales team, so you can rely on both quality and a variety of other factors.
Pros (+) in working with Salehoo:
The best part of Salehoo is the community around the site – branch of activity. Salehoo runs a continual blog and forum that shows users' routines through which they can learn and exchange experiences with anyone they want or have affinity for.
You can use market research lab tools to find different products and categories that potentially will bring you higher profits and sales.
Great support / service!
Cons (-) of working with Salehoo:
There is no free demo of services / account (however there is a money back guarantee within 60 days).
Extensive training that can bring false expectations.
Costs and Prices (Salehoo):
$ 67.00 / year, charged annually, at one time.
They have successfully modified the plan for this annual option, which is actually one of the cheapest on the market.
This annual plan gives you access:
Access to Salehoo Affiliated Vendors
Direct access to market analysis tools.
Forum access available to members.
Email support, personalized (with dedicated account manager).
60 days warranty to request full refund.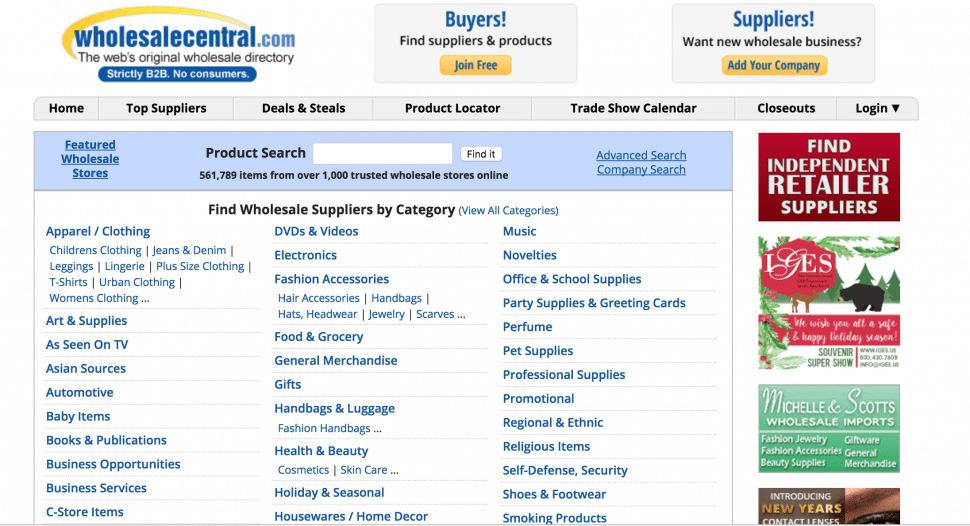 Wholesale Central does not have the best website design, but it does have some cool search tools through filters and categories such as clothing, electronics and leather goods.
Wholesale central has over 630,000 items, listed from over +1,000 trusted retail suppliers.
The suppliers and data for dropshipping are detailed and available at one click.
When you click on one of the drop shippers, the site directs you to the manufacturer's site, meaning there are no intermediaries, you should work directly with the suppliers.
Costs and Prices (Wholesale Central):
Subscription is free. Before there were paid plans, but now the whole service is absolutely free.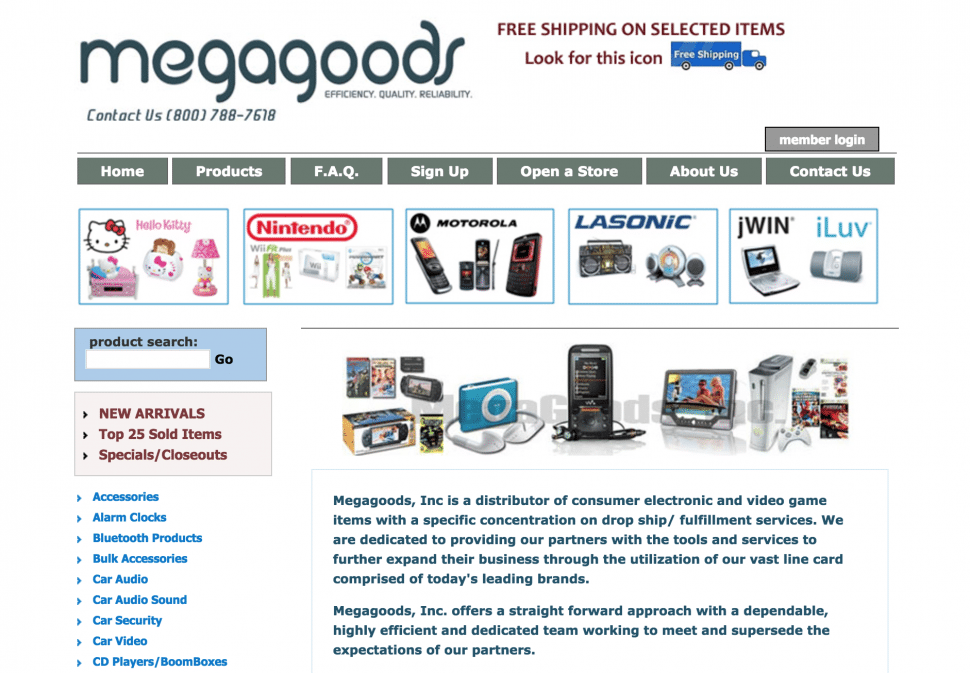 Megagoods is a direct supplier where the drop shipping model is simplified.

The site specializes in electronic inputs and video games, described and divided into more than 45 categories.

The site also has a large selection of well-known brands and options for fast processing and private label shipping.

It operates with some really well known brands like: Coby, Hello Kitty, Nintendo, Philips, Targus, among others.

And others not so well known as Iluv, Supersonic, Zenex, Finepet, Naxa, Gamefitz, Pyle, Mgear, Quantum Fx, Craig, Unirex, Nutek, BELLHOWELL, etc.

Pros (+) :
Cheap, one of the cheapest sites to use in this business, one of the lowest monthly fees.
Despite the limited number of products and lack of site search tools or technical expertise, it is a cheap option and should be used especially if you intend to specialize in electronic inputs.

Cons (-) :
Megagoods offers few products (compared to other sites in the area, and certainly the fewest products in this manual).

No search tools, catalog organized simply based on categories.
No integration for other websites, no other eCommerce tools or webshop – online.
Costs and Prices (Megagoods):
Megagoods offers 30 days free trial use of the site and after this period the monthly fee is $ 14.99 per month.
Some key strategies you have to keep in mind before you start…
Shopify, the most popular drop shipping partner in the world. The fastest and easiest way to open an online store (and manage)
Type of drop shippers vs competition.
A touch of reality…
Where can I find all local specifications and rules for shipping products internationally?
Trainings: